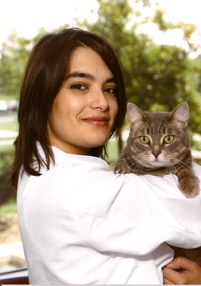 We are extremely excited to welcome Dr. Marylisa Reynders to Amherst Small Animal Hospital! Dr. Reynders brings some exciting new skills and energy to our practice!
Dr. Reynders is a proud native of Western New York. She attended Calasanctius School in Buffalo, New York, graduated from the State University of New York at Buffalo (1996, Bachelor of Arts, Biological Sciences) and obtained her DVM from the New York State College of Veterinary at Cornell University (2002).
Dr. Reynders was fortunate to have been mentored by some of the veterinary world's leading clinicians at Cornell, while attending under an academic fellowship for feline medicine.After completion of her doctorate, Dr. Reynders has practiced small animal medicine in Western New York for several years. She has special interests in feline internal medicine and diagnostic imaging. Dr. Reynders has also pursued special training in the use of small animal diagnostic ultrasound at the Ontario Veterinary College, Guelph, Ontario, and plans to continue moving ultrasound to the forefront of progressive veterinary diagnostics.
She also served as a Board Member of the Niagara Frontier Veterinary Society and is on the Board of the Western New York Veterinary Medical Association.
Dr. Reynders resides in the Elmwood Village with her four cats. When she is not practicing veterinary medicine, Dr. Reynders enjoys listening to jazz music, patio gardening, cooking classic French cuisine and vacationing in the French and Italian countryside.